We had such a great part of our week at the beach... sun-bathin', eating seafood, opening presents!
One thing I didn't get to open was my gift from the hubs. But that's not a complaint. At. All. For the most part, we don't chance "surprise" gifts around here. For Christmas and birthdays, we make lists and hope the other pays attention to the other's requests. There have been several exceptions, of course, but that's how it typically goes. Here's an idea of how it played out before my birthday:
Him: What do you want for your birthday?
Me: I don't know! I want lots of things. How much are you willing to spend on your only wife?
Him: Ha-flippin-ha. What do you want?
Me: A lap dance.
Him: For real, Erin. What do you want?
Me: I want two things. Number one: a spray painter.
Him: Hmmm. Okay...
Me: But I REAAAALLY want you to install the new window treatments. Without complaning. That's what I for-reall-y-want-sies, you big hunk-o-man, you.
Him: (Sighs, then laughs) Why does it have to involve manual labor?
(days later)
Me: I want the spray painter, but doesn't it seem like something I would just buy myself? I mean, it's a tool. Maybe I don't want it as my birthday gift.
Him: Yeah. I've been thinking that myself. So what do you want? Your birthday is just a few days away.
Me: I think I want this drum pendant for the dining room.
Him: That's kind of a lot for your birthday, considering there's ALSO an entirely separate part of your gift that involves cursing, measuring, and installation.
Me: But darling, my amazing-balls grandparents just gave me some birthday cash. So put it towards the light fixture
(He folds out his hand, I slap the cash in his palm. I jump around squeeling)
So back to the lighting fixture.
I've considered several styles, but a drum pendant seems to be the best balance between the classic architecture and our modern and constantly-evolving style.
Option 1 (a previous purchase) - CB2 Eden Pendant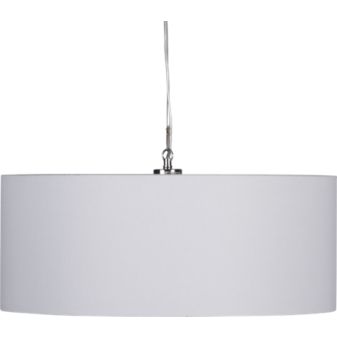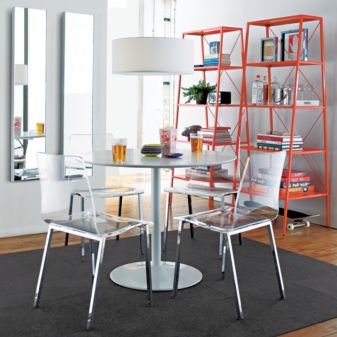 I actually purchased the CB2 Eden Pendant a year or so ago. You can't beat the price at $50. But it seemed a little too small, so I never installed it. Just to make sure, I double-checked last week. Sure enough, the width (just under 20") was too narrow.
Option 2 - West Elm Short Drum Pendant
The dimensions seem perfect, and it's also a great deal at $150, but I want a brighter white (more
ba-BAM!).
Our walls and curtains are too close to the linen color than I'd like. Moving on...
Option 3 - Alluminare Drum Pendant Light
We may have a winner, honey. Hoping. It's 24" wide and 10" high. Seems like a good fit. We'll see!
Any lighting favorites out there? Anything on your gift-request list this year? Even if it's awhile away, what would you ask for if it were right now?