Okay, ya'll... First a personal life Christmas update: 98% of shopping is done. AND the wrapping. It was quite the task. Because my gifts are beautifully wrapped, if I do say so... I even took a personal day from work on Monday. But it's DONE! And now I can enjoy the season. I'm planning on posting some more decorating pics later on, but for now I'd like to share some more gift ideas--all inspired by things that I for one would love to find in my stockin', . Some are stylish, some are practical, some.... let's get moving.
Gorgeous iPhone Cover.
It's my pleasure to introduce you to two gorgeous iPhone cases. Can you believe these beauties? At around $50 a pop, these prices are impressive considering the work it must take. They are glamorous... so pretty. Enough said.
Deadly-free scented candle.
I love to smell lovely fragrances around my home, but
do you guys have any idea how many health hazards are involved with these unregulated scents?
So here's an idea... Instead of poisoning your gift recipient (to be clear, this is not condescending. I poison people I
love
every other year or so), consider a lovely scented candle that uses essential oils instead of the junk in other scented candles that's known to cause health problems - including nerve issues.
Now, I will admit, scents are a very personal thing. Some people like fresh spice smells like vanilla or apple cinnamon like me, and other people can't stand them. It's tricky.
But,
if you know your recipient (and your recipient happens to be
moi
) then it's an easy choice.
Lavanila The Healthy Candle, Vanilla Coconut
Here's what the site says:
Offering a clean burn that does not release harmful pollutants, toxins, or soot, you can feel good about this beeswax blend.
Infused with essential oils
Does not release harmful pollutants, toxins, or soot
Free of paraffin, dyes, and harsh chemicals
BeautyBar.com
has the best price I've found at $16 + free shipping right now! I love Vanilla and Coconut, and smelled an amazing Vanilla Coconut candle at Anthropologie last year that was in-cred-i-ble. Hopefully this one smells even close to that dreamy!
Letterpress Desk Calendar
. Last week I featured a gorgeous yearly calendar featuring positively gorgeous art. This week I'd like to share a daily pleasure that I've enjoyed for the last two years.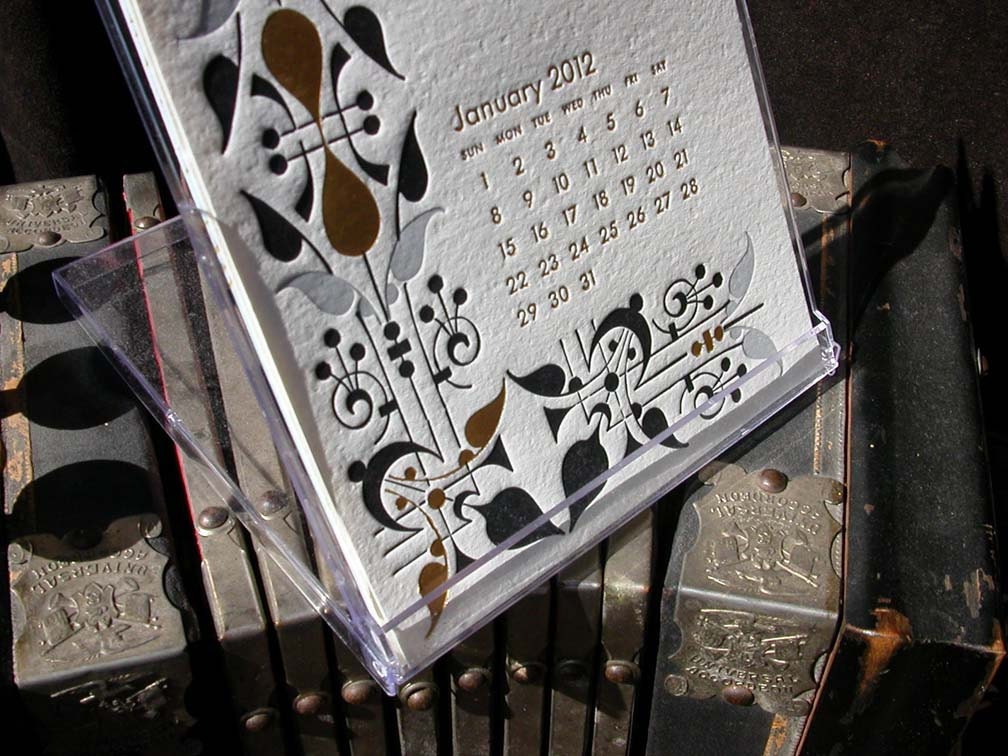 2012 Letterpress and Silkscreen calendar by Ilee- $22
A co-worker of mine gave one to me as a gift and I liked it so much much I bought one for myself last year. It's not only lovely; it's also practical. I reference it when making timelines and whatnot almost daily at work. And it's so nice flipping those pages each month, enjoying the new look and all.
And
ooh-wee,
here's another option for you I also
adore!
Isn't it wonderful? Now here's another idea....
Spice Organizer.
Not the sexiest gift, but who cares? Check out the
Swivel Store
. It's not sexy, but if you're low on space like we are, it's perfect for storage. Organization and storage is a gift beyond measure, friends.
\
Happy Christmas! Leave a comment a let me know if you like these gifts, or if you have any recommendations for last-minute ideas! We need to have each other's backs!